If you've been given the sacred duty of planning your bestie's bridal shower, you might be feeling a touch of pressure right now! At Jouer, we've had the privilege of hosting loads of beautiful life celebrations, including many a bridal shower. To make your life easier, we've put together this Bridal Shower Planning Checklist so that you can relax and enjoy the process!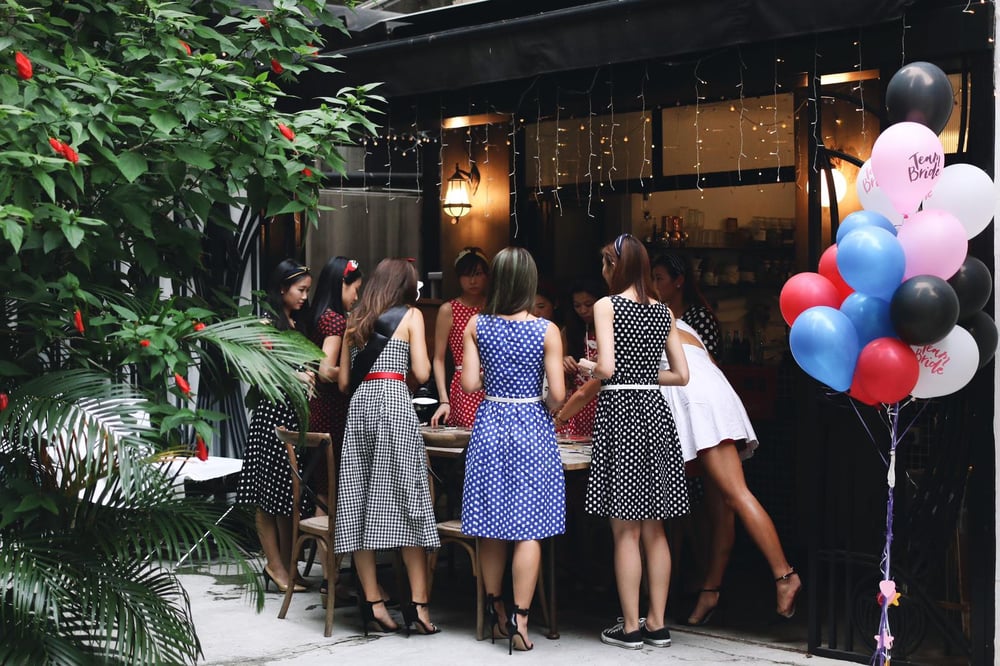 8 weeks out
Check-in with the Bride-to-Be
A bride-to-be has a gazillion things to plan - a bridal shower should not be one of them! Still, unless you're planning a surprise bridal shower, it's wise to check-in with the bride-to-be on the basic arrangements, for example, her preferred dates, who she wants to invite, any themes or activities she definitely does (or doesn't!) want, etc.
While there are no rules when it comes to the perfect date for a bridal shower, we find that 2 weeks ahead of the wedding is a good date to aim for - close enough that everyone's getting in the mood, but not so close that the bride is getting too stressy! Of course, the exact date will depend on logistics, the bride's preferences and the availability of important guests, so the sooner you plan this, the better.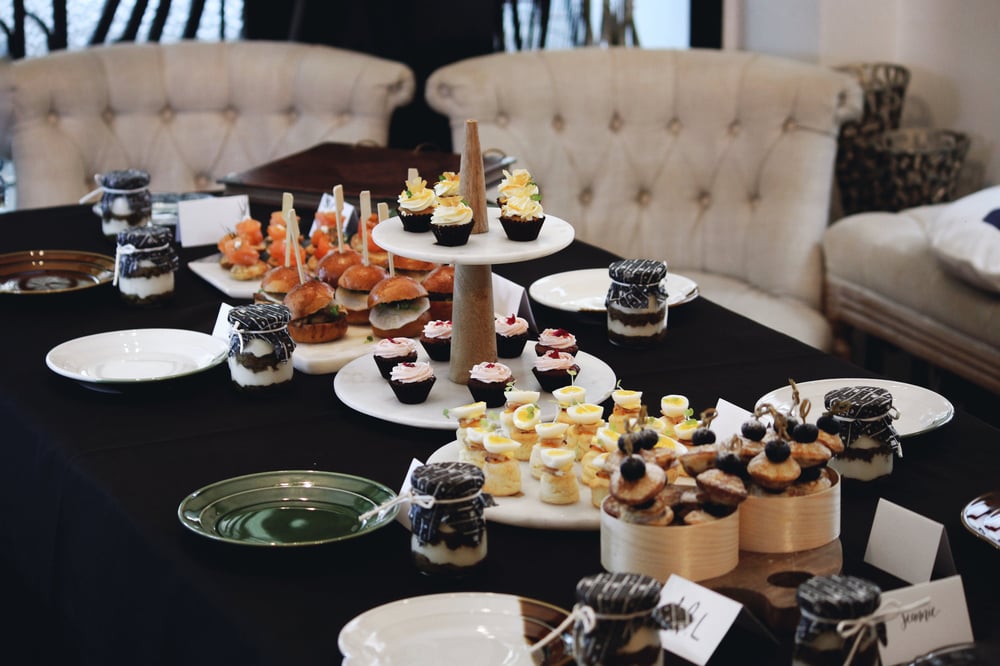 While one or two of you may be taking the lead on planning the bridal shower, get a few more bridesmaids and besties involved so that it doesn't overwhelm you. Some of the areas you may want to delegate are venue, catering, decorations, games, guest invites, favors, etc. To help everyone work cohesively, check out our next tip...
While not essential, we find that a theme makes the planning easier and the party better. It gives everything a clear focus - from the food and decorations, to the games and outfits, and makes for great photos on the day! Your theme might be aligned with the wedding's, or inspired by your bride-to-be's personality, passions or favourite period. Since we specialise in bespoke desserts and canapés, we've catered for pretty much any theme under the sun - 'Elegant Tea Party', 'Bohemian Chic', 'Roaring 20s'... You name it, we'll cater for it! Check out our journal for more inspiration.
Unlike a bachelorette party, a bridal shower tends to be a tamer, more tasteful affair (though no less fun, of course!). Ideally, you'll want somewhere that's spacious yet intimate, exclusive yet easy to get to. Nestled in Hong Kong's Star Street area, our art nouveau lounge spills out into an open terrace, perfect for both group games and cozy conversations - with bite-sized delights and mimosas in hand, of course! Take a closer look at our space here.
4-6 weeks out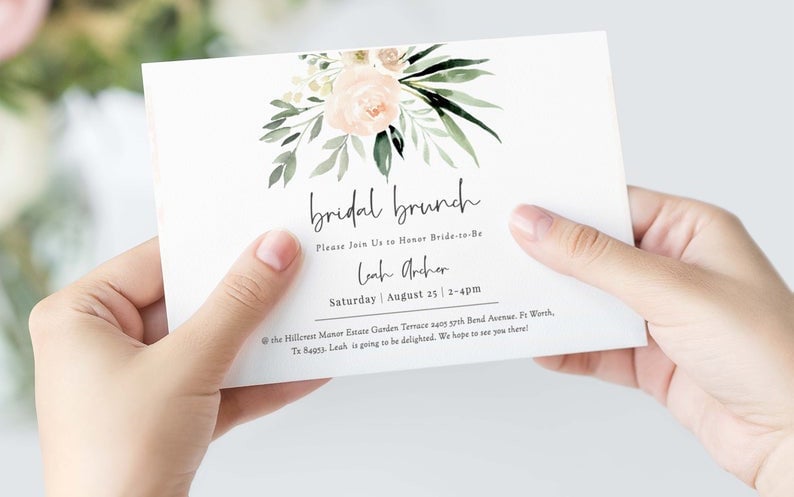 Source: Pinterest
Unless you're very familiar with the bride-to-be's social circle, she'll need to provide you with a guest list and contact details. You may want to send out a save-the-date 2 months ahead of time, and the official invitation once you have the details ironed out. Whether your invites are digital or analog, consider creating one that matches your theme. Details you'll want to include are date, time, venue, theme, how to RSVP, and anything you want your guests to bring or prepare.
The trick for a good party is to have enough of a structure that things flow smoothly, but not so much that it feels rigid or rushed! Create a loose run-down of the event, and clarify who's in charge of what on the day, be it decorations, music, photos, games, venue coordination, favors, etc.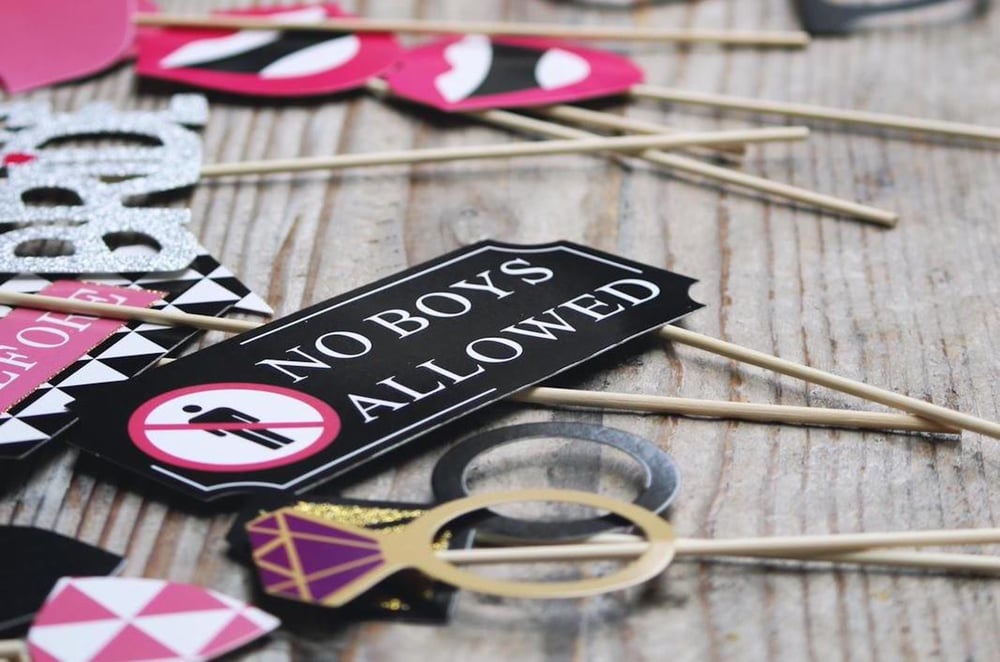 Whether you're just going for some color-coordinated flowers and balloons, or have an elaborate theme-inspired production in mind, it pays to think through the details so you know what needs to be bought, booked or made in advance. Think about any props you might need for games, activities, and maybe even a photo booth.
1 week out
Now's when you go about confirming with everyone - send out a reminder to guests; reach out to those that haven't yet RSVPd; check in with your venue and vendors; touch-base with your bridal shower team; and make sure the bride-to-be knows when and where the party's happening!
24 hours out
After all the time and love you've put into organizing this bridal shower, it's important that you actually get to enjoy it! Try to do as much of the picking-up and packing-up the day before so that you can take your time and arrive feeling beautiful and relaxed!
Want to learn more about hosting a Bridal Shower at Jouer?