Times have been tough for all of us and being able to spend time with our families, friends and loved ones have become more precious than ever. This year, while we're reunited under the full moon to honor the customs of Mid-Autumn Festival, why not try something different to jazz things up?
At Jouer, we continue to handcraft traditional delicacies with a contemporary twist that will leave you curious and intrigued.
Traditions with A Twist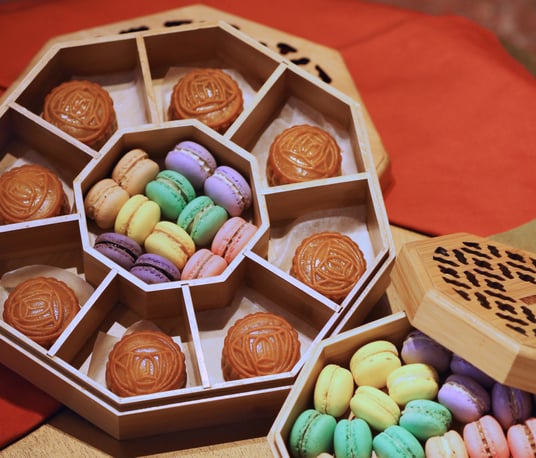 As most of our supporters would know, we seek to cook up different flavor profiles seasonally. And what's more fitting than showcasing it through our fan-favorite "moon-carons" for Mid-Autumn? Familiar flavors such as White Lotus (白蓮蓉), Custard (奶皇), Mung Bean (緑豆蓉), 'Wu-ren' Nuts (五仁), Taro Jam (芋泥), and Date Jam (棗泥) make up the bite-sized treats that can be relished around this time of the year—some of them even laced with a hint of salty egg yolk. These Chinese-French hybrids are an exemplar of what our brand is about. Most importantly, none of these macarons contains added preservatives or lard. Perfectly artisanal and relatively guilt-free!
A Little Way Down Nostalgia Alley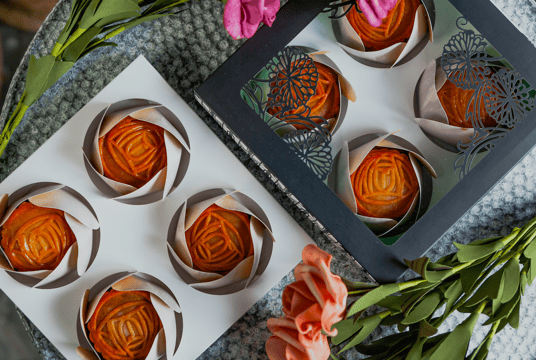 Nostalgic Hong Kong flavors are a big inspiration for us. In fact, our first-ever collection of macarons was created to tribute retro snacks and beverages found in the iconic 'Cha Chaan Tengs' (茶餐廳) of Hong Kong. When we decided to produce our own line of mooncakes four years ago, we thought it would be apt to incorporate our ever-so-loved macaron flavors into the time-honored Mooncake, namely Hong Kong Milk Tea, Horlicks, Kaya and Salt, and Dark Chocolate Bourbon Caramel. The end product is a compact almond-based pastry that looks exactly like a regular mini mooncake but tastes of surprises that will surely leave a wow.
The Perfect Mid-Autumn Gift Hamper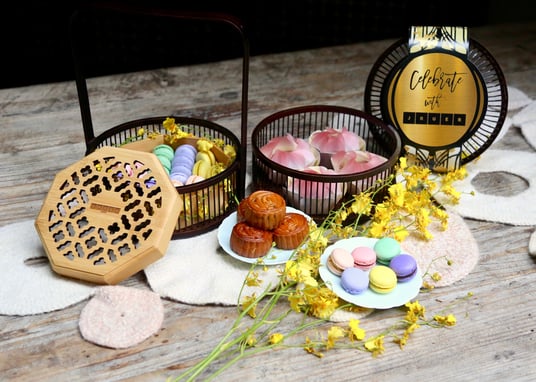 Chinese festivals are all about generous and presentable gifting. Nailing the products is just the basics. Thoughtful and elegant packaging is the key to presenting them as eligible gifts, be it to your business clients, the boss, or your friends and relatives. Jouer's ultimate Mid-Autumn Gift Hamper comes as a double-tiered Chinese rattan lunch basket – sophisticated, playful, yet keeping traditions close to home. In the lower tier sits our signature octagonal bamboo box filled with Mooncake-flavored Macarons; while the upper tier contains Mini Mooncakes inspired by four of Jouer's most loved macaron flavors. Swathed in a festive gold-foiled sleeve and adorned with a yellow Dancing-doll Orchid, the person on the receiving end would definitely be over the moon.
Let's celebrate a tasty and tasteful Mid-Autumn together!