This year's Chinese New Year holiday is fast approaching, which is the cue for some to start planning a family reunion (or in the special case of this year a Zoom reunion), featuring a hearty feast of over-the-top Poon Choi, delicious turnip cakes and festive treats that are believed to bring prosperity and fortune to the house. Whether you favor the traditional favorites growing up eating or are a fan of reimagined classics, our ideas might fill your reunion dinner with blessings and a touch of surprise.
Lunar New Year Preparations
It is a long-held custom to put up Fai Chun (New Year Lucky Red Banner) at the doorways or in the house to create a jubilant atmosphere. These are usually illustrated with beautiful Chinese calligraphy and phrases to welcome a prosperous new year.
The classic Candy Box that appears on every Chinese household coffee table is also never forgotten in the scene. It is a symbol of togetherness, containing an array of auspicious goodies offered to visit guests throughout the CNY holidays. Presenting a dazzling assortment in your candy box will definitely leave a good impression.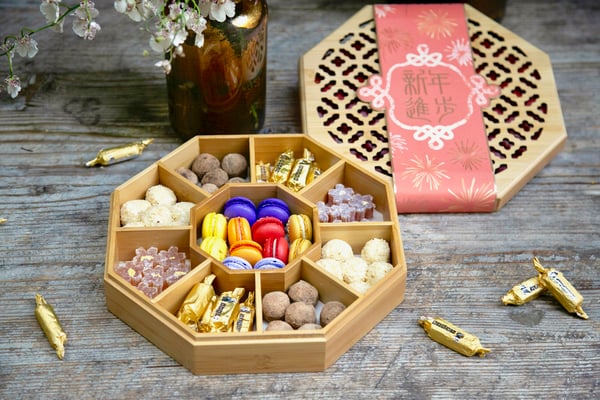 Jouer's Prosperity Gift Box offers a diverse variety of sweet treats with a refreshing take on the Candy Box usuals. The Gift Box includes a dozen of Jouer's signature CNY macarons with flavours inspired by traditional CNY favorites such as Coconut Candy, Taro Cake, Chinese Empanada and more. The box also offers reinvented Petit Fours, including Dried Plum Pu-erh Tea Truffle, Grinning Marshmallow, and more. Another delightful gift option is the Fortune Gift Box, filled with two dozen of Jouer's signature CNY macarons.
Gifting for the New Year
Chinese New Year is the time for gifting. Sending blessings to your nearest and dearest to welcome the new year in the form of a presentable gift, usually edible, while you're visiting their homes is an expected gesture.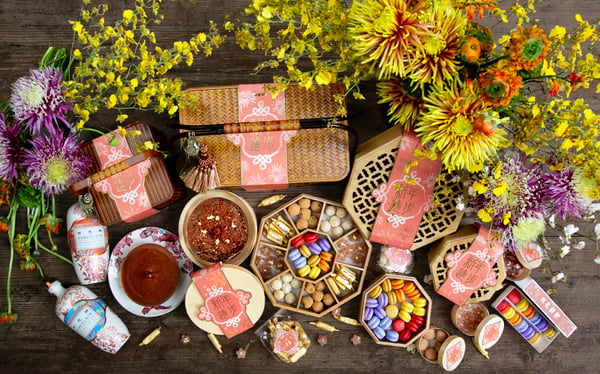 Make this year's Lunar New Year celebration extra special by bringing Jouer's Fortune Gift Hamper -- this double-tiered Chinese bamboo lunch basket includes all our signature CNY treats packed in delicate boxes. Jouer's CNY Prosperity Gift Hamper is another gift idea you may consider with the same signature treats, but including the namesake Shanghai Dry Gin by Porcelain Gin and artisanal CNY puddings and turnip cakes by Black Garlic.
Eat Your Fortune with Poon Choi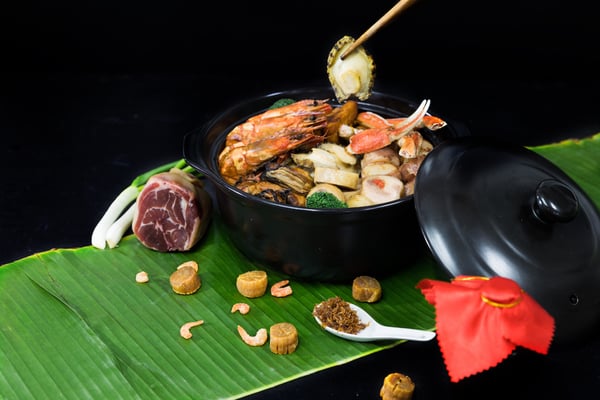 Unique to Hong Kong, having 'Poon Choi' at family dinner is popular during CNY, as it signifies abundance and affluence in the New Year. This sumptuous dish usually features a few premium ingredients served in a big clay pot.
For a more decadent experience, Jouer has put together a signature CNY Prosperity Feast 2022 to wow your guests and fill their bellies. In addition to our version of the 'Poon Choi', the feast includes a quartet of Chinese tapas, Bone Marrow Nuo Mi Faan (steamed glutinous rice), Drunken Chicken Foie Gras Claypot Rice, Suckling Pig with Wa Mui Rhubarb Chutney and Jouer's Signature CNY Macarons.
Luck in The New Year with Turnip Cake
Turnip or ("Radish") as you may is a homonym for luck in Hokkien, making it an especially favored dish over the holidays. It is a savoury pudding loaded with cured meat, shaved daikon radish and dried shrimp, first steamed then pan fried to create a fluffy texture with a crispy crust.
Partnering up with Black Garlic this year, we have two versions of the Turnip Cake -- the Classic Turnip Cake and the Vegan Turnip Cake. Handmade with organic ingredients and with no preservatives added, they are encased in a reusable bamboo box, making a handsome, healthy and sustainable gift for the Lunar New year.
Finish the Celebration with Rice Pudding
Leen Goh -- a traditional glutinous rice pudding is a must during Chinese New Year. Its Cantonese pronunciation sounds like 'a year higher', making it not only a delicious but also an auspicious treat. It is said to help diners advance their careers or reach new heights of prosperity in the forthcoming year.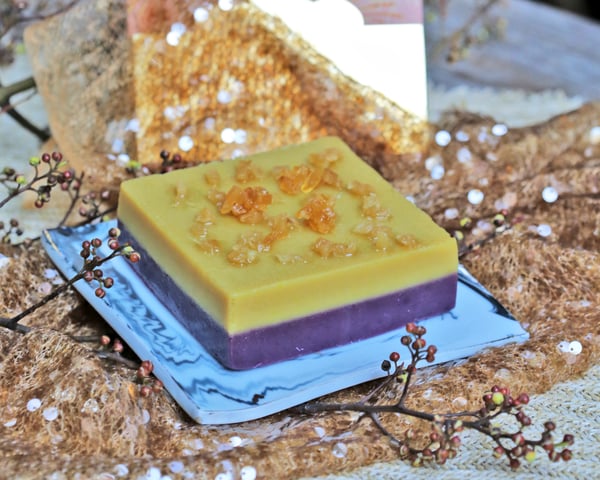 Partnering with Black Garlic again, we have for you two palatable options -- the Black Garlic CNY Pudding both artisanally made with quality ingredients to bring you an indulgent but also nutritious holiday treat. A wonderful Black Garlic CNY Pudding Combo is also available for all 3 of your best Black Garlic CNY experiences!
A Flavourful CNY with Classic Anchovy X.O Sauce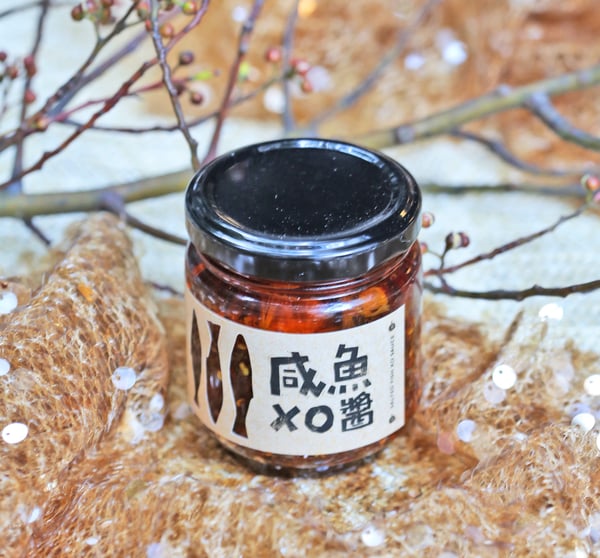 Black Garlic proudly presents their Anchovy X.O Sauce handmade with locally-sourced conpoy, dried shrimp, olive oil and canola oil. With whole pieces of anchovies and anchovy oil added to elevate the taste of all ingredients, this sauce will be a delightful addition to all your CNY dishes.
The evening shouldn't end without some booze for celebration! Encapsulating the oriental culture of the Lunar New Year, we have for you the Porcelain Mandarin Edition Gin that comes in a keepsake bottle designed by LOVERAMICS and LALA CURIO. Imbued with the opulent Mandarin Orange, this edition bursts with a unique and distinct sweet citrus flavour, perfect as an aperitif with tonic, or served neat as a nightcap.
We also recommend their original flavor -- the Porcelain Shanghai Dry Gin for the purists. Distilled from 18 botanicals, it incorporates citrus sweet Cardamom notes, with lavender and almond finishings.